Red Risk Management™ is an Australian owned, risk management company staffed by experienced security, risk and investigative industry professionals. We specialise in providing expert risk assessment and management solutions to clients in multiple industries and sectors.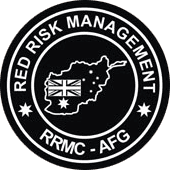 Formerly RED RMC (Red Risk Management Services Company LLC), our Australian team were previously based out of Afghanistan where we became established within the global risk community as a professional, effective and efficient organisation that can be relied upon to achieve outstanding results in extremely complex, dangerous and remote locations.
Today, our Brisbane-based organisation has an established reputation as the company of choice amongst professional corporations. Our consultants provide proven expertise in the identification, planning, coordination and maintenance of sustainable security and risk management constructs. This aligns with our core business objective which is to ensure that our clients achieve maximum profitability with minimum risk and minimal impact from incidents. We offer both risk assessment consulting services and risk management solutions.
Our risk assessment consulting services identify RED RISK for our clients in the areas of Workplace Security, Health & Safety, Human Resources and Threat Prevention & Counter-Terrorism.
Our range of risk Management solutions help our clients in various industries to reduce risk and protect their assets and people.